How To Learn R Fast | Episode 1
Written by David Curry
---
In this first episode of Learning Labs, we discuss how to how to learn R fast, and give you a 30-minute playbook for success with 3 Key Strategies.
The Problem: Data Science Education is bad. There are a million people saying a million different things. Most "data scientists" doing the talking have no experience in the real world. Most programs are ineffective. This makes learning data science a struggle. The sad fact is that most learners don't succeed.
The Solution: We understand the issue. We've studied it over the course of a year designing and devloping trainings and workshops. In this Business Science Learning Lab we give you 3 strategies to Learn R Fast.
Recording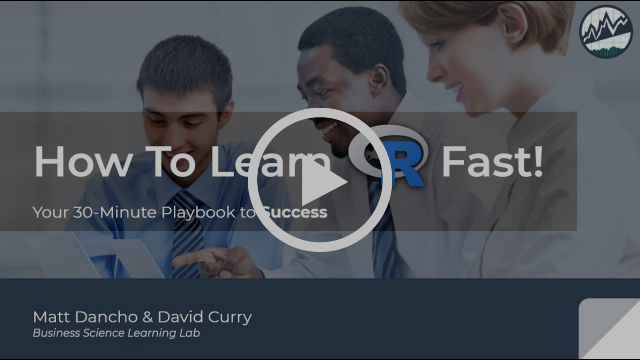 We had 115 attendees on the LIVE recording. For those that weren't able to make it, subscribe to Learning Labs for the next episode.
Attend the Next Learning Lab Live
---
Slide Deck
Get the slide deck from the Learning Lab. All resources are hyperlinked.
---
Resources & Links
---
Playbook for Success:
Beginner Course - DS4B 101-R - Business Analysis With R - Learn the fundamentals of data science including tidyverse, dplyr, ggplot2, purrr, broom, lubridate, stringr, forcats, tidyr, & rmarkdown all while solving a customer segmentation project and a new product pricing model project!

Intermediate/Advanced Course - DS4B 201-R - Data Science For Business With R - Cutting-edge machine learning course that solves a Churn Problem using H2O, LIME, recipes and the Business Science Problem Framework!

R-Track Bundle - Best Offer - Save $207 - Get both the 101 & 201 courses to go from Level 0 to 10 in minimal time. Best value!
---
Special Course Offer

We want to help you go from Data Scientist Level 0 (Complete Beginner) to 10 (Advanced), accelerating your career in the process.